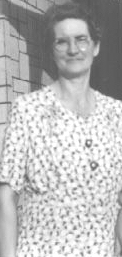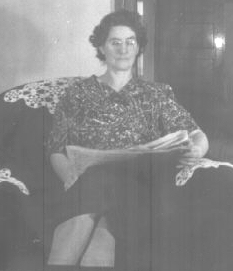 Traditional Irish Blessing

May you always walk in sunshine
and may God's love around you flow;
For the happiness you gave us,
no one will ever know.
It broke our hearts to lose you,
but you did not go alone;
A part of us went with you
the day God called you home.
A million times we've needed you,
a million times we've cried;
If love alone could save you,
you never would have died.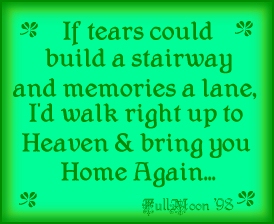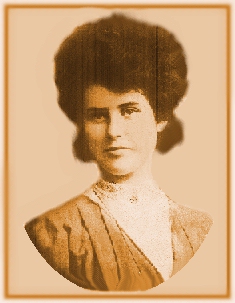 Toolie as a teenager



In Memory Of My Great~Grandmother
MARTHA MYLES KEALEY
"TOOLIE"

Born September 20, 1887
in Quebec, Canada
Died August 3, 1978
Duluth, Minnesota


I have so many wonderful memories of this woman, I almost don't know where to start! I guess the thing I remember most was her gentleness and kindness. She was a very large woman, I think 6', or near that. She was strong in her convictions and her faith and a very hard worker, seemed she was always working and on her days off she'd come out to the country to our house and help my mom with us kids and do more work! Her heart was as big as the universe and she taught us honesty and fairness and above all else hope, that there would always be better times ahead...
I remember how we'd laugh (with her) when she'd go through the list of all our names when calling one of us inside till she got it right. There were six of us at the time, Well folks the joke's on us! We all do the very same thing now! *smiles* It's the most fun at my nieces house; we have Tammy, Tylor, Travis and Trevor! I personally gave up, the boys are "the oldest", "the middle one", and "the baby"! I'll let the rest of my family share some memories later in the page! The song now playing is one she used to sing to me as a child. Every time it plays I can hear her voice.... More about it below.