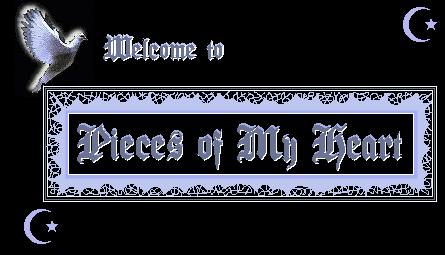 I wanted a page for my
thoughts, my writings, and some
favorites of mine by others;
so here they are.
I hope you enjoy them.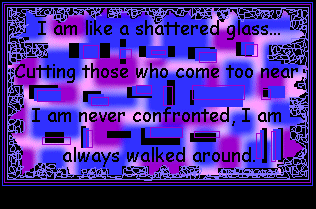 My younger sister gave me this
writing on a scrap of paper many
years ago. I still carry it. A very
good friend once told me all
growth comes from pain, through
the years I have found that to
be true. Below is a card my other
sister gave me this year, I hope
this reflects more of the person
I have become, through growth,
born of much pain.


"Make new friends; but keep the old,
for one is silver....
The other is gold....."
unknown
********
"What a wonderful surprise, to find out
how unlonely being alone can be"
Ellen Burnstyn
********
Your love has a fierce magesty that
cannot be matched. Your love has a tenacious magnificence that cannot
be contained. You stand out alone in
your incredible and phenonmenal
capacity to love. Rejoice in your
presence.
Lazaris

[HOME]
[ SOOTHE YOUR SOUL]
[REMEMBER, My adopted POW/MIA]
[TRIBUTE,my Great-Gram]
[WHAT'S COOKIN']
[MY AWARDS & APPLY FOR MY AWARD]
[PRAYERS FOR OUR CHILDREN]
[NATIVE AMERICAN]

Now Playing:
Unchained Melody by
The Righteous Brothers